What does the well-dressed dog wear wine tasting? This pooch is dressed in classic tuxedo colors for his outing.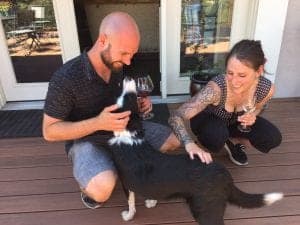 Mutt Lynch Winery in Windsor not only allows dogs to join you in their tasting room, they were voted the most pet friendly winery in Sonoma County plus their wines are all dog themed with donations to pet rescue organizations. As they say "Bark less, wag more!"
These wineries and tasting rooms welcome your well behaved dog.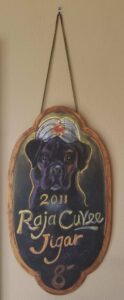 Ektimo Vineyards: 4950 Ross Road, Sebastapol With a lovely property and tasting room to bring your dog, Ektimo is also adjacent to the Joe Rodota / West County Trail so you can fit in both wine tasting and a walk in the same trip.
Equality Vines: 16215 First Street, Guerneville Bring your leashed pup right into the tasting room.
Jigar Wines: 6615 Front Street, Forestville The Jigar team is such a fan of their dog and visiting friends that it's portrait is in chalk at the tasting room.
Landmark Vineyards, Hop Kiln Estate: 6050 Westside Road, Healdsburg Picnic with your dog on their beautiful grounds
Paul Mathews: 9060 Graton Road, Graton Our tasting room always has a water bowl ready and we offer four legged friends treats. Our back yard is a great place for guests to taste and picnic alongside their dogs.
Porter Creek: 8735 Westside Road, Healdsburg Leashed dogs are welcome throughout the lovely Porter Creek grounds – just be sure not to chase the free range chickens!
Sophie's Cellars: 25179 Hwy 116, Duncans Mills The outside patio includes a water bowl and friendly pats for visiting pooches along with blankets and heaters for people in case the fog rolls in.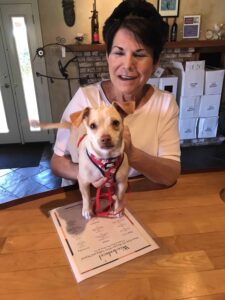 Woodenhead Wines, 5700 River Road, Forestville Woodenhead is happy to have dogs enjoy their patio and tasting room with their people – and even takes photos!
Enjoy this Fall Harvest season wine tasting with your four legged friend!