Cabin fever, over scheduled calendars, and a busy everyday routine may have taken hold over the wintertime but thankfully spring is just around the corner and that means it's time for spring break! With several options including hiking, zip lining, beach combing and lots of fun events, it's a great time of year to get back to nature and explore what the Russian River has to offer.
Stewards of the Coast and Redwoods, a non-profit organization focused on protecting and supporting local parks including Armstrong Redwoods State Natural Reserve, Austin Creek Recreation Area and Sonoma Coast State Park is a great resource for exploring the area. Visit one of their visitor centers and sign up for a docent-led tour or grab trail maps and information on local activities.
During the spring break period from late March to early April, Stewards is hosting the following courses:
Tracking: Seeing Patterns on a Landscape – come learn about the "Art of Seeing" and observe animal behavior — Saturday, March 16 (9:00 AM – 3:00 PM) Location: Bodega Dunes Campground
Pond Farm Potter Docent-led Tour – learn about the history of a local cultural site listed on the National Register of Historic Places — Saturday, March 16 (9:30 – 12:00 PM) Location: Stewards of the Coast Redwoods office and Volunteer Center
Plants of the Redwood Forest — learn how to identify different plants in the forest growing among the tallest tress in the world — Friday, March 29 (10:00 AM – 1:00 PM)
Location: Armstrong Redwoods Visitor Center
Hike with Mike – go on a hike with retired teacher, Mike Roa, who will share is knowledge about redwood ecology — Friday, April 5 (9:30 AM – 12:00 PM) Location: Armstrong Redwoods Visitor Center
You can either join the guided tour of Pond Farm Pottery or visit the historical site on your own. It's well worth a visit either way. Its national significance dates to the 1940s and 50s when European ceramist and teacher Marguerite Wildenhain arrived in the U.S. after World War II and introduced new methods of ceramics, arts and crafts skills, as well as philosophies during the first half of the twentieth Century.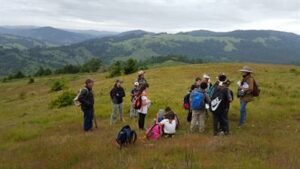 If you're looking to learn a new skill, Learn Sonoma Country offers classes and workshops on everything from "Creating an Edible Landscape," "Modern Tapestry Weaving," "Beginning Nature Illustration" and "Wine Cellaring." In addition, Spring Lake Environmental Discovery Center will host a family hike on March 16th from 1:00 – 4:00 p.m and its regular "Science Saturday" takes place on Saturday, April 6. The center offers educational activities for kids, as well as an exhibition center for hands-on learning.
The Fisherman's Marketing Association of Bodega Bay is holding its third annual all you can eat Community Crab Feed to benefit Bodega Bay Fishermen on Saturday, March 16 from 4:00-7:00 p.m. at McCaughey Hall. Visit Jenner by the Sea for more information.

Do something adventurous and let go of all that stress with a zip lining trip and soar from tree to tree along the tops of the redwoods. Sonoma Canopy Tours offers two-and-a-half hour guided eco-tours that includes zip lines, sky bridges, spiral staircase and a rappel to the forest floor.
Check out the Monte Rio Parks and Recreation Community Center for a range of classes including Aikido, yoga, and tai chi. The park also has a skate park, tennis and basketball courts and community gardens. For more outdoor fun, visit the Monte Rio Riverfront Meadow or Monte Rio Beach, the largest public beach on the lower Russian River where you can rent a canoe, paddle board or kayak. Also in Monte Rio is game night on March 14th from 8:00-8:00 p.m. hosted by Friends of Monte Rio.
Guerneville Library also offers free classes on topics like "Intro to 3D Printing," "Read to a Dog," "Healthy Living," "Family Yoga" and "Preschool Storytime."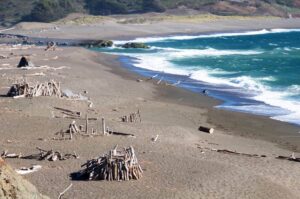 Bring the kids and muck around the river, see the seals at the end of Rock Beach where you can spot newborn baby seals. Jenner is a great place to do some beach combing, pick up driftwood and build things and dig in the sand.
As far as family accommodations, check out Creekside Inn & Resort, built specifically for families with several cottages and suites, and a bed and breakfast available for rent. The resort is nestled in the redwoods offering peace and quiet in the heart of nature but is also just a short walk to downtown Guerneville.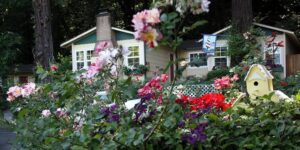 Fern Grove Cottages is another great option and is also within walking distance to downtown Guerneville. There are 20 craftsman-style cottages dating from the 1920s built among the redwoods as well as gardens featuring dahlias, roses, ferns and fruit trees.
To get a view of all the available vacation rentals in the area, as well as Russian River tourist attractions and activities, visit Russian River Escapes. There you can get lots of inspiration for your trip from shopping to dining to outdoor activities.
Choosing the best dining option can sometimes be tricky with little ones but the Garden Grill serves up American fare and BBQ – and dogs are welcome on their patio!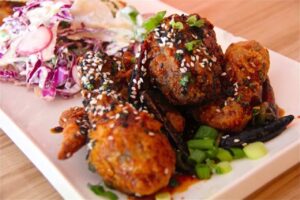 If you decide to try zip lining, Howard Station Cafe is nearby and great for kids of all ages. Finally, Pat's diner has been around for more than 75 years and serves breakfast, lunch and dinner. Owner David Blomster just reopened it with a brand new look. The menu still includes Blomster's famous KFC (Korean Fried Crack), and the eggs benedict on shredded ham hocks are to die for.
With so many options to choose from, the Russian River has something for everyone this spring break. Come and bring the kids and reconnect with nature, slow down and relax, and let Russian River hospitality take your stresses away!