While there are plenty of adventures to be had along the Russian River like camping, fishing and hiking, the beautiful and breathtaking Sonoma Coast is not to be missed. With its rugged coastline, dramatic cliffs and seaside resorts and villages, the area has something for everyone! Even just a simple drive along highway 1 is a wonderful way to experience the area, not to mention outdoor adventures like whale watching, beach combing and all-year kayaking.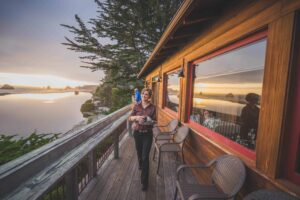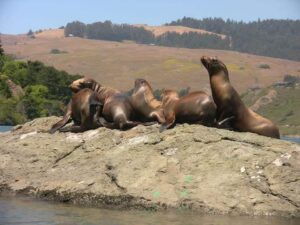 Start your journey in Jenner at the mouth of the Russian River and visit the Sonoma Coast State Park estuary, a marine recreation area, and Russian River State Marine Conservation Area. There you'll find plenty of wildlife in its natural habitat including harbor seal pups that play around the river mouth, and a designated sea bird and rescue area on the beach. A great place to stay nearby is the Rivers End Restaurant & Inn, offering beautiful views of the river and Pacific Ocean.
Visit Watertreks Ecotours, the area's premier eco-touring company located at the park, and sign up for a guided tour, a guided hike or take a two-hour kayaking trip. Along with guided tours and equipment rental, Waterteks provides ecological education and is the only agency open all year round. Reservations can also be made for other days of the week.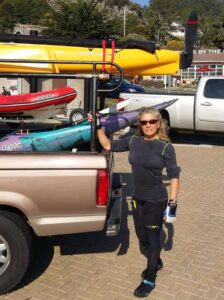 Local environmentalist, guide, kayak instructor and owner of Watertreks, Suki Waters, has been conducting guided tours since 1979 and has been a volunteer with the local state park since 1986. When I spoke to Suki about how to enjoy the coast, she provided some great tips on where to go and what to do.
Here are some of her favorite spots:
Head south from Jenner and visit the Sonoma Coast State Beach, which runs up to the mouth of the Russian River from Bodega Bay and explore more than 13 miles of beaches. There you can discover hidden coves along the shore and walk among sea stack rock pillars and boulders where Mammoths roamed more than a million years ago.
Check out Shell Beach, also just south of Jenner, and explore the tide pools but be sure to check the tide book.
Visit the Bodega Bay Visitor Center and Stewards of the Coast and Redwoods for information about and sign up for local events. Volunteers at Bodega Head offer information on spotting whales during migration season, which runs from January through May. Visit Bodega Bay Surf Shack and Bodega Bay Kayak Shack for rentals.
Head north and check out the Vista Point overlook just north of Jenner, just past the River's End restaurant.
Continue north and stop by Café Aquatica, a great location for coffee break.
Take the 10-mile hike around the Monte Rio area (takes 4-5 hours).
Explore the back side of the river, the Willowcreek area, where you can spot great blue heron as well as river otter, muskrats or bobcats.
Visit www.coastwalk.org to find trails that run along the entire coast and visit the State Park Visitor's Center in Jenner to pick up free maps.
Explore the Red Hill Trail near Willowcreek that goes through coastal prairie land and ends up at an old grove forest with wonderful views of the coast. The Red Hill Trail connects to the Kortum Trail, which ends at Wright's Beach, where you can camp.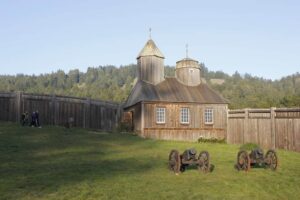 Make your way up north to Fort Ross Historic Park, formerly known Fortress Ross (you can hike from Wright's Beach), a Russian compound dating from 1812. Fort Ross sits on a calm cove with several trails surrounds the area and historic sites including several houses and the Holy Trinity St. Nicholas Chapel.
The town of Fort Ross offers several accommodations including the Fort Ross Lodge and a general store for campers.
Just north of Fort Ross is Timber Cove, a boat landing and campground area that is a great area for boating, fishing and camping. Timber Cove Resort is another great option to stay to explore the surrounding area.