HALLOWEEN BASH! at The Black Dragon Experience: Dracula Unvieled.
October 11 @ 6:00 pm

-

October 12 @ 1:30 am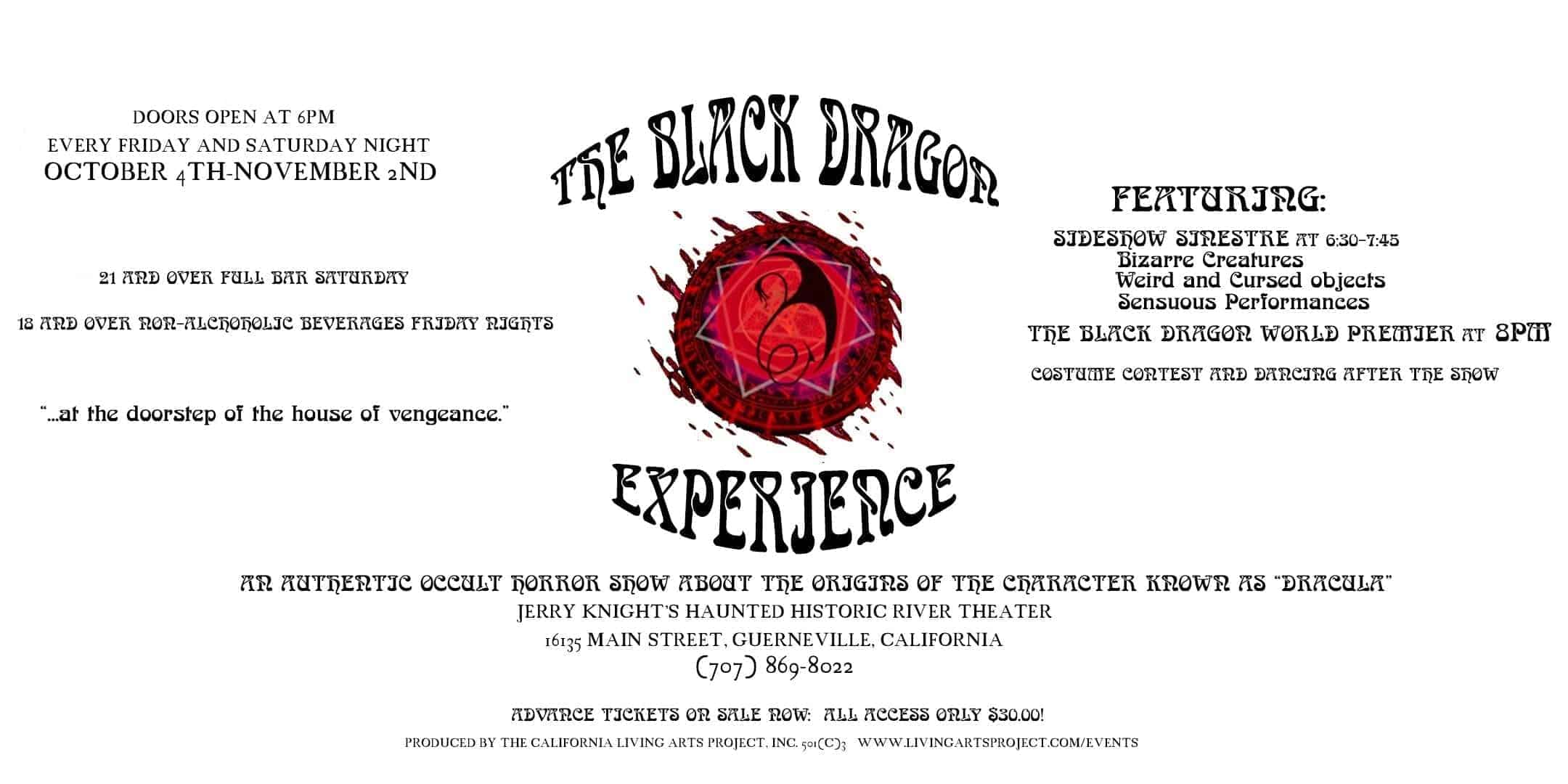 THE BLACK DRAGON:  DRACULA UNVIELED. 
at Jerry Knight's Historic River Theater in Guerneville, California.
This legendary venue which has hosted bands ranging from The Grateful Dead to Gwar and hwich has had many storied incarnation, has risen like a soggy phoenix from the floods of 2019 with a compelling new theatrical production to benefit disadvantaged youth, vetrans and others whosee creative spark must be found and fanned into a flame of passionate creation.

THE BLACK DRAGON
Is a fresh new take on the classic tale, full of blood, lust, magick it is a new three act play that explores the occult origins of the classic.  Run time about 2 hours and 15 minutes with two 10 minute intermissions.  The California Living Arts Project team of volunteers has put together a fantastic new show on a shoestring.  Featuring both a compellingscript full of beautiful language and a compelling journey into darkness, occult themes are woven into the tale which exposes the source of evil in our modern age.  Over the top effects include spraying blood, chilling fog and outstanding audio design.
The EXPERIENCE includes SIDESHOW SINESTRE' a disturbing display of macabre art and oddities that tie into the story and which includes a few classic sideshow performers and other suprises.
FULL BAR ON STAURDAY NIGHTS.  21 and over with ID at the door
CLEAN AND SOBER FRIDAY NIGHTS!!  18 and over.
HALLOWEEN NIGHT FEATURES AN AFTER PARTY AND COSTUME CONTEST.  Come in costume for a chance to win fame, fortune or at the very least a prize presented by the Prince of Darkness Himself.
DANCING EVERY NIGHT AFTER THE SHOW!
COME ONE COME ALL, JUST 20 MINUTES FROM WEST SANTA ROSA.  $20 for a whole nights entertainment, such a deal!
Related Events