Measure A and B Voters' Forum
February 19 @ 5:30 pm

-

8:00 pm

PST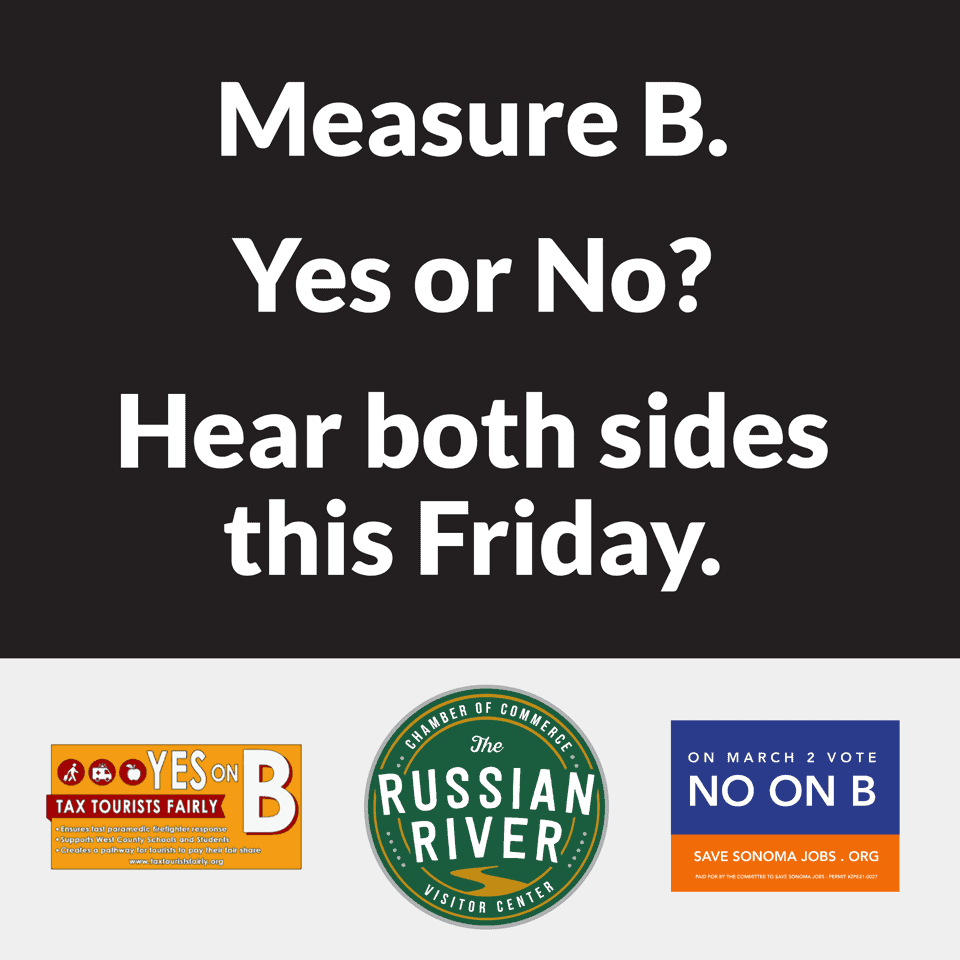 Russian River Chamber to sponsor Measure A & B voters' forum on Feb. 19
The Russian River Chamber of Commerce is hosting a voters' forum on the upcoming March 2 west county ballot initiatives, Measure A and Measure B. The ZOOM-based session will take place on Friday, February 19th at 5:30 p.m. Meeting information is available at the Chamber's website (Russianriver.com) Pre-registration is not required and the session is open to west county residents and interested parties.
Panelists for the forum will include representatives of local election committees who are currently engaged in "Yes on A&B" and "No on A&B."
Fifth District Supervisor Lynda Hopkins and a county fire service representative also are being invited to participate. The forum will be moderated by Laura Hagar Rush, former editor of Sonoma West Times/News and North Bay Biz Magazine.
The format for the forum will provide equal time to all participants with an opportunity for brief opening and closing remarks. Audience questions will be collected in the ZOOM chat room. All non-panelists will be required to stay muted during the entire session.
According to Chamber Board President, Bob Pullum "We are pleased to host this important forum in the interest of facilitating accurate information and expanding voters' knowledge of these important local tax initiatives.
Measure A is a proposed $48 per year Parcel Tax on all properties with the West Sonoma County Union High School District. The measure requires a two-thirds majority to pass and would expire after three years.
Measure B would add 4% to the current Transient Occupancy Tax in the west county, to be collected by hotels, inns and short-term rentals from overnight visitors. Funds collected would be dedicated to west county fire agencies and to support west county schools and students. The proposed TOT tax would be added to an existing 12% TOT tax in west county only.
Longtime journalist Laura Hagar Rush is the former editor of Sonoma West Times & News and North Bay Biz Magazine. She is currently developing a new news and community app called Townsy, which she is piloting in Sebastopol.
Related Events