Our rainy weekend continues on Sunday with a meander on the lower river around the Jenner/Duncan's Mills area.
Early morning, I started the day with a walk along Goat Rock beach while the rain was a light drizzle. Even during peak rainy season, you'll usually have breaks in the day to get outside. I was the only one on the beach — or so I thought. As I rounded the riverbank on the side where the river comes into the ocean, I heard a big plop! Looking up, I saw five curious young seals swimming over to take a look at me. I don't usually get over to this side of the beach so this was a real treat.
When I take my dog along with me, I'll head over to the opposite end, called Blind Beach. If you do take your dog, it's important to keep it away from the seal pupping area though! Walking over to the ocean side, I startled a flock of seagulls who rose up and circled above me in a beautiful ballet. It was a breathtaking sight.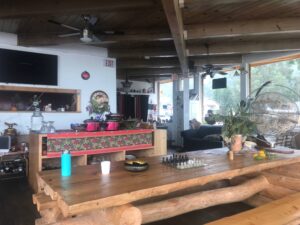 On the way back up the river, I stopped in at Russian House #1 and enjoyed a cup of their special herbal tea mix. While drinking my tea, I read a bit of the history of the area, which was printed on the restaurant's placemat.
It read: "In 1806 Russian Ships Yunona and Avos landed in San Francisco. Fort Ross (North of the Russian River) was founded in 1802 as the most southern Russian colony in America. It stayed a Russian territory until 1841. Within ten miles from Fort Ross, there is a river called 'Slavyanka that was renamed Russian River afterward. On this river's shore…we opened Russian house #1… Our Russian house is not just a restaurant, but a cultural dialog project of two nations of the Earth."
The restaurant serves a range of Russian specialties and has an open, welcoming atmosphere for all. They also have puzzles, events, and heart/mind-opening activities such as open mic night and seminars on self-development. Although my plan was just to have the tea, the smell of crockpots filled with pasta and pork, potatoes and cabbage, and chicken soup were just too alluring. I enjoyed the tastes of them all before heading out.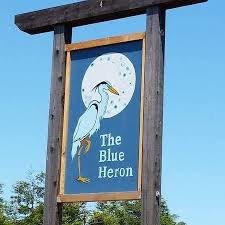 Since this is football Sunday, I knew the best place to spend the afternoon would be at the bar at the Blue Heron Restaurant in Duncans Mills. Their bar menu with sesame-encrusted ahi tuna, garlic fries, clam chowder and more is sumptuous. They have a range of great beers on tap, football in the bar and live music in the tavern.
The last time we had a rainy weekend, I lost power and discovered the local's secret. I learned that in case of a blackout, you can always count on a party at R3 Hotel. The resort is known for providing great entertainment from dance parties to karaoke, great drag queen shows, and offers a haven for all – rain or shine. It has 23 guest rooms and a freestanding bar and lounge.
Whether it's wine tasting, relaxing at one of the area's top hotels, restaurants or bars, or curling up with a good book, the Russian River Valley will surprise you with wonderful ways to enjoy a low-key winter weekend!