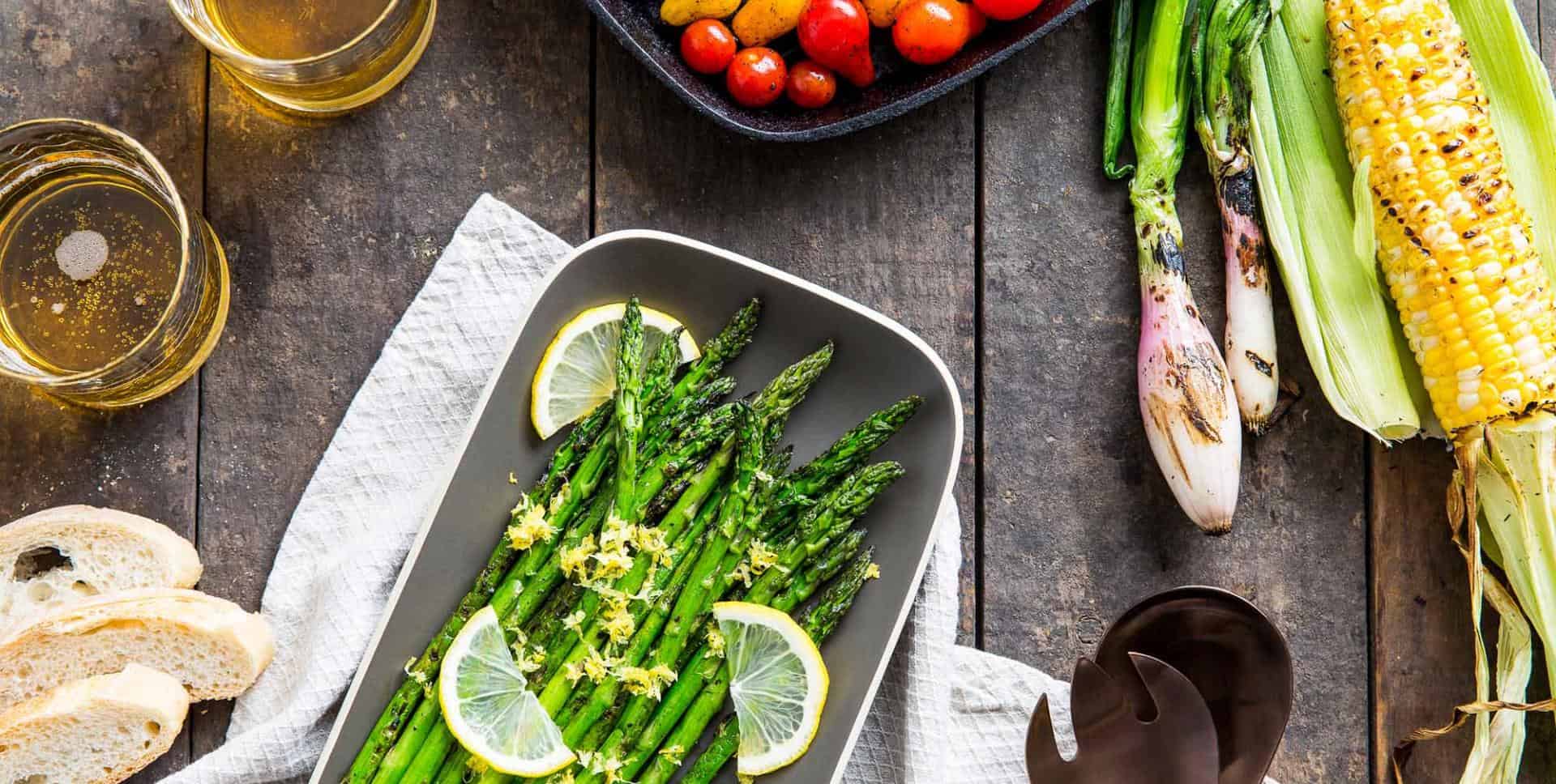 Sonoma County Restaurant Week on the Russian River takes place from February 21 through March 1, 2020. Browse participating restaurants and their special Restaurant Week menus on this page and make reservations.
Russian River restaurants participating: Timberline, boon eat and drink, Twist, BROT, Baked on the River, Hazel, Korbel Delicatessen and Market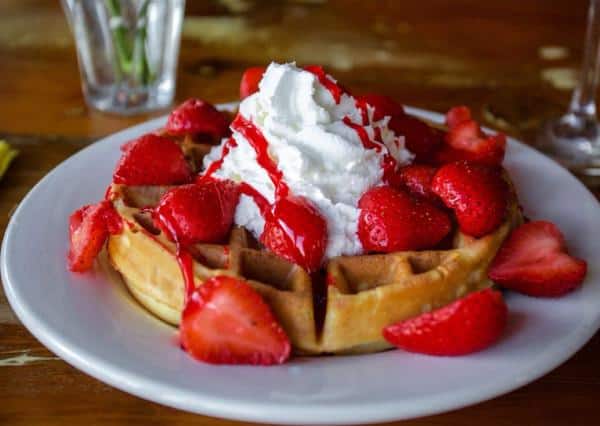 Timberline Restaurant
(707) 604-7617
Book Your Table
Our unique style of traditional comfort food with a Sonoma County flair, we call it "Rustic Cabin Cuisine." Local flavors, locally-sourced ingredients, and all hand prepared. Our dining room is on the second floor with views of downtown, adorned with old-growth redwood paneling and ceiling timbers, seating by large panoramic windows. Our location is ideal for lunch or dinner. A larger grand dining area can seat up to 100 guests.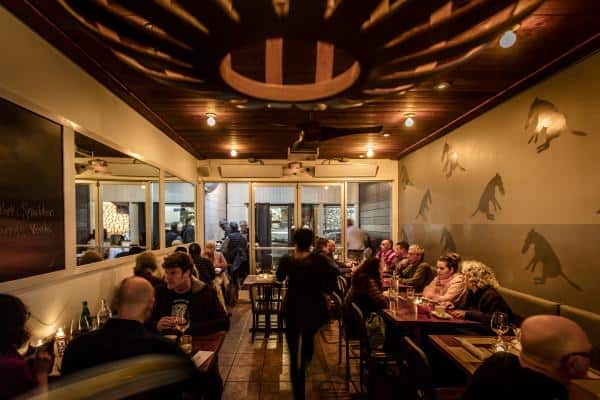 boon eat and drink
16248 Main Street
Guerneville CA, 95446
(707) 869-0780
info@eatatboon.com
boon eat + drink is a modern California bistro. our menu is simple and tasty. comprised of small plates, salads, and seasonal main dishes, we feature the best of Sonoma County's bounty. from artisan cheeses, local meats, to produce, we believe great food comes from using deliciously fresh and seasonal ingredients and not doing to much to them. we proudly serve only Russian River wines (made and brewed) and microbrews from both Sonoma and Mendocino County.
2020 $29 Restaurant Week Dinner Menu
To start:
Homemade SOUP or mixed green SALAD
Entreé choice
– POLENTA lasagna (GF + V) or braised PORK SHOULDER (GF)
Dessert
Chocolate BROWNIE or buttermilk PANNA COTTA
GF= gluten free V=vegetarian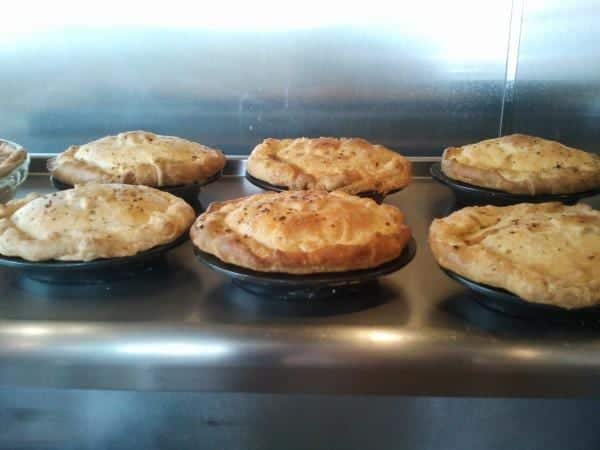 Twist Eatery
6536 Front Street
Forestville CA, 95436
(707) 820-8443
Email: toni@twisteatery.com
Called, "The best lunch restaurant in town." Executive Chef Jeff Young and his wife Toni serve up delectable seasonal dishes. Tucked into the small hamlet of Forestville in the Russian River Wine Appellation, Twist is a full-service restaurant with dining options indoors at the chef's counter or alfresco on the cozy patio. The whimsical eatery is tiny, but the food abounds with flavor and the service is always friendly. Ideas for imaginative daily specials are world sourced, but depend on what's locally available from Sonoma County farmers. They have created a following for their Chicken Fried Chicken. Whether it is a Cajun meatloaf sandwich, called "The Bomb", or an Asian Caesar salad, Twist gives Chef Jeff Young the opportunity to cook his style of food – American cuisine with a splash of Italian and Asian to twist his culinary creations into mouth-watering entrees and side dishes that contain free-range, organic, and sustainable products.
Toni's famous chocolate chip cookies and mini lemon tartlets are offered up for dessert and the wines have been selected to pair well with Jeff's offerings. Beer and specialty soft drinks are available. All meals can be made to take home or on a picnic. Corkage is $10.00. No charge for winery personnel bringing in their own wine. Open Tuesday through Saturday, 11 a.m. to 3 p.m.
2020 Restaurant Week Menu
$15 Lunch Menu
Twist's House Salad or Stone Soup
Thai chili marinated Pork Steak braised in a Ginger Coconut Sauce and served with Green Onion Jasmine Rice and Asparagus.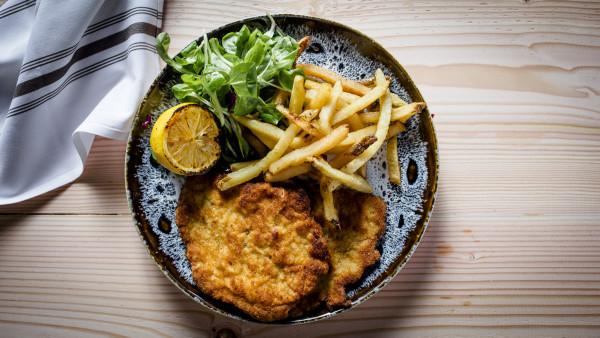 BROT Modern German
16218 Main Street
Guerneville CA, 95446
Email: info@brotguerneville.com
707) 604-6102

From serial entrepreneur-chef, Crista Luedtke: BROT is a modern german concept serving delicious classics in a warm Bavarian atmosphere.
BROT celebrates Crista's heritage, as well as, honors her parents who owned a German restaurant, Luedtke's Bratskeller, when she was a child. The menu is inspired by Crista's travels around Germany, offering authentic German dishes, to be accompanied with local + imported German biers. The beauty of the Bavarian Alps is showcased in a rustic, yet modernized, casual atmosphere—Crista style. You'll feel at home here.
Join us for the 2020 Sonoma County Restaurant Week from February 21st – March 1st and enjoy our $29 menu. Select one from each category:
Appetizer:
Little Gem Salat (v/gf) or Obatzda (Bavarian Cheese Spread)
Entrée:
Wild Mushroom spätzle or Pork Schnitzel with Jaeger Sauce (gf)
Dessert:
Black Forest Pot de Crème (gf) or Mandelkuchen (Almond Cake) (gf)
(v) Vegan, (gf) Gluten-Free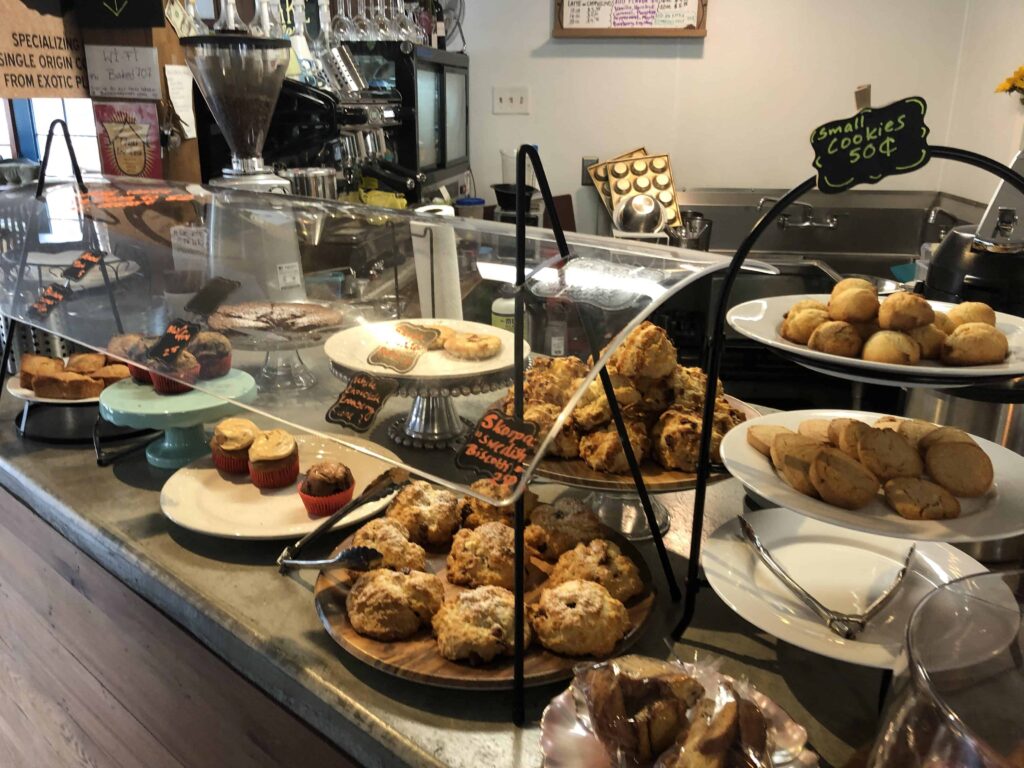 Baked on the River
17071 Highway 116
Guerneville CA, 95446
(707) 865-6060
Your local bakeshop on the River. We have baked goodies, breakfast/brunch, lunch, and dinner. Thursday night dinner and music.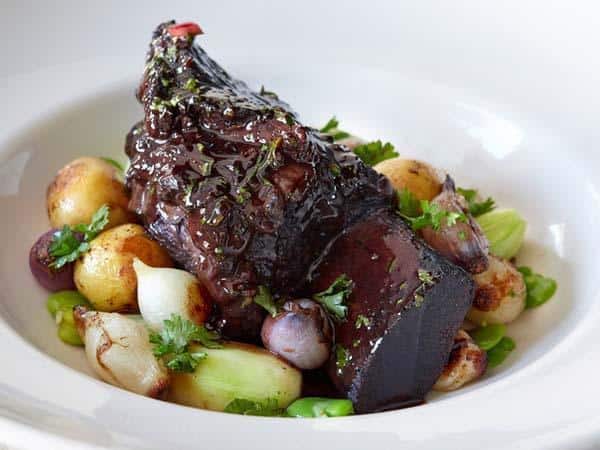 Hazel
3782 Bohemian Highway
Occidental CA, 95465
restauranthazel@gmail.com
(707) 874-6003
Jim & Michele Wimborough have been cooking in kitchens in the Bay Area (Zut on Fourth, Grand Café, and Boulevard to name a few) for the past 15 years. It has been their dream to find the perfect small town to open their own restaurant, become part of a community and raise their son, Graham. They feel so fortunate to be able to now call Occidental home—surrounded by all of the bounties of Western Sonoma County. They are committed to using local, seasonal and sustainable produce, meats, and fish to create memorable food & baked goods.
2020 Restaurant Week Menu – $39
Starters
French Green Lentil Soup
Carrots, onion, mushroom stock, crème fraiche, green onions (gf)
Little gems salad
Vegan Caesar dressing, croutons, fried capers, nutritional yeast (v)
Fried Brussels Sprouts
Applewood bacon, lemon, Valley Ford Estero Gold (gf)
Mains
Mushroom Risotto
Organic oven roasted mushrooms, mushroom stock, onions, Parmigianno-Reggiano (gf, can be vegan)
Roasted Chicken
Smashed Yukon potatoes, spring onions, lemon vinaigrette, arugula (gf)
Pork Sugo Orecchiette
Braised pork shoulder with red wine, tomato, garlic, parsley, Parmigianno-Reggiano
Dessert
Chocolate peanut butter pie
Graham cracker crust, whipped cream, chocolate sauce
Apple Crisp
Brown sugar crisp, Three Twins vanilla ice cream
Chocolate Pot de Crème
Whipped cream, amaretti cookie. (gf)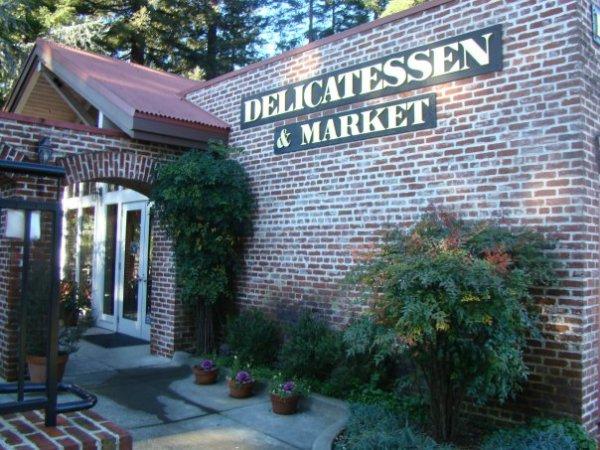 Korbel Delicatessen and Market
13250 River Road
Guerneville CA, 95446
(707) 824-7313
Email: info@korbel.com

As you turn into Korbel California Champagne Cellars on River Road, nestled among the redwood trees, you'll find one of the best-kept secrets along the Russian River—the Korbel Delicatessen & Market.
As you turn into Korbel California Champagne Cellars on River Road, nestled among the redwood trees, you'll find one of the best kept secrets along the Russian River—the Korbel Delicatessen & Market. Take a relaxing break and enjoy the casual and friendly atmosphere along with award-winning food. The menu consists of gourmet sandwiches, handcrafted salads and a large assortment of prepared, special items in the deli case. The deli also offers box lunches and afternoon wine snacks. For larger groups on a time schedule, just call ahead. Some of the finest artisan cheeses, baguettes, sweets, unique soft drinks, and Russian River Ale can be found along with Korbel California Champagne and wine to accompany your meal. The large assortment of gourmet cookbooks and epicurean gift items will make your gift and souvenir shopping easy and fun.
Hours
Summer/Fall (April 1 through October 31): 9 a.m. to 5 p.m. daily
Winter/Spring (November 1 through March 30): 9 a.m. to 4:30 p.m. daily
2020 Restaurant Week Menu
February 21st thru March 1st

Choose One

– Wine County Caprese Sandwich (fresh local mozzarella cheese, garlic roasted tomatoes, basil pesto, local baby greens lightly tossed in house-made white balsamic vinaigrette)

– Flat Bread Pizza
balsamic caramelized cremini mushrooms, brie, and wild arugula

– Korbel Kobb Salad
local baby greens and wild arugula with organic local hardboiled egg, freshly grilled chicken, local barrel smoked bacon, organic grape tomatoes, gorgonzola cheese, avocado tossed in a house-made buttermilk herb dressing
---
Choose one
-Local Baby Spring Greens with roasted sunflower seeds, dried apricots tossed in champagne vinaigrette
-Israeli Cous Cous salad with lemon, golden raisins and feta
-Dark Chocolate Olive Oil Cake

$10.00

Menu items will only be available as a restaurant week special. No substitutions, no discounts apply