We are in full swing for the summer season at the Russian River! And this year it's extra special for many businesses as they re-open with bright new or rejuvenated facilities after the recent flood. Stop in and enjoy these re-opened iconic businesses along the River.
Come visit Rio Nido Roadhouse for great food, drinks, live music and fun by the pool, open to adults and children of all ages. Rio Nido was one the businesses that got hit the hardest, losing most everything. With the help of the local community, including help from Falcon Mike of Falcon Mike's Adventure Bus Services, who showed up with a dump truck to help clear away debris, the restaurant was able to get up and running again fairly quickly. Enjoy a brighter atmosphere with natural, rustic light pinewood and a newly rebuilt bar. Rio Nido is now open seven days a week for lunch and dinner, and breakfast is served on Saturday and Sundays. The restaurant offers live music every weekend. Check the calendar for details.
Stay at the charming Village Inn in Monte Rio which offers studios and guest rooms with great views of the river and gardens. The Rio Bistro restaurant inside the Village Inn offers country comfort cuisine Friday to Sunday.  The bistro just added brunch, now available on Saturdays and Sundays from 11-1 p.m., and is open for happy hour, wonderful for enjoying oysters, from 3-5.

After a delayed start to the season, Johnson's Beach is now open 7 days a week! In their 101st year, Johnson's Beach is still the best spot to play on the river with rentals and concessions to keep everyone in the family happy.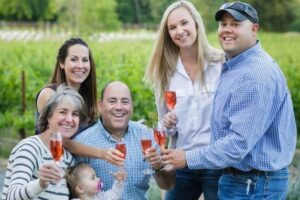 The sun is out, the tasting room is open, 11 am to 5 pm and Sadie the winery dog is ready to say hi. Come enjoy award winning Gracianna Wines on the patio and take in Spring time in the Russian River Valley.
Enjoy a cozy dinner at Timberline at the River Restaurant – comfort food with a local Somona touch, such as fresh-caught salmon, meatloaf and their famous chicken-fried chicken. The restaurant is also known for their extensive wine list, local craft beer and cocktails.
Want to take some time off for special pampering? Make an appointment to spruce up your cut, create fabulous color, or prepare for a special event at either  Wishes and Secrets Hair Salon or  West Sonoma Style Bar
And let's not forget our 4 legged friends! For pet supplies, Barkers Pet Supply is now open again. Bring your dog and let them pick their next treat!
We are thrilled to share our special bit of paradise here at the Russian River with you. Come on up today!