Employers email karin@russianriver.com to send us your job postings.
………………………………………………………………………
Food Cart Staff
Hot Box BBQ, Guerneville
The Hot Box BBQ is still looking for people to work in our food cart! Any day of the week for anything from 4-24 hours a week. Good pay and great tips plus a free meal every day you work. Apply at the Hot Box in front of Pee Wee Golf. Wednesday through Sunday, 12-8 pm. (June 21)
Coffee Roaster, Janitor
Coffee Bazaar, Guerneville
(415) 531-7814
Coffee Bazaar is looking for one coffee roaster to join our 15 person strong team. Our ideal candidate is self-driven, punctual, and engaged. We are in need of a Coffee Bean Roaster that can roast coffee, respond to emails, pack coffee beans for sale and also prepare orders for deliveries. $14 – $18 an hour. Also seeking a full-time Janitor, $11 – $14 an hour. Some benefits of working here are that we have a great staff and a great working environment. Another benefit is free coffee and food on the job! We have available shifts all days of the week. If you are interested in (or have any questions about) this job please call Ibrahim Alhaj at (415) 531-7814. 14045 Armstrong Woods Rd. (June 21)
Breakfast Cook, Part Time
Inn at Occidental, Occidental
Luxury 16 room bed and breakfast – seeking skilled professional to prepare daily breakfast entrée, baked item, and granola parfait for inn guests; maximum of 40 meals. Total responsibility for purchasing, menu planning, clean up, and maintenance. Prep for occasional orders for special occasion cakes, cheese platters, etc. Must be a team player. Hours are dependent on occupancy but weekends and holidays are required. Job description may change as COVID protocols change. 3657 Church St. (June 21)
https://www.facebook.com/jobs/job-opening/323086042812326/
Housekeeper
Jenner Inn, Jenner
(707) 865-2377
Jenner Inn is looking for a full or part time Housekeeper to join our exciting team. We're not far from Guerneville, located where the Russian River meets the Pacific Ocean. Our next team member ideally has previous housekeeping experience, but if you are motivated to learn, we encourage you to apply. $18 – $20 an hour. Typical hours 10 am – 5 pm, weekdays, weekends, and holidays. 10400 Coast Route 1, Jenner. innkeeper@jennerinn.com (June 21)
https://www.indeed.com/jobs?q=jenner+inn&l=jenner%2C+ca&radius=5
Nursery Associate, Warehouse Associate
Harmony Farm Supply and Nursery, Sebastopol
Harmony Farm Supply and Nursery, known for its outstanding knowledge of organic/sustainable farming and gardening practices, is looking for Nursery Sales Associates. Full time with benefits, $15.25 – $17 an hour. The ideal candidate has some knowledge of agriculture, horticulture, irrigation or landscaping, organic/sustainable practices, and/or plants (including edibles, natives, and drought-tolerants). Also seeking Warehouse staff with interest in learning about these topics. Please apply through the link below with a brief cover letter and PDF of your resume, or come in and apply at our store: 3244 Gravenstein Hwy N, Sebastopol. (June 21)
https://www.indeed.com/jobs?q=Harmony%20Farm&l=Sebastopol,%20CA&radius=0
Full Inclusion Temporary Support Paraprofessional, Paraprofessional Assistant
Harmony Union School District, Occidental
The Full Inclusion Temporary Support Paraprofessional is under the supervision of the Teacher, Special Education Coordinator, and Site Administrator and is evaluated by the Teacher. This position serves as a one-to one assistant to a special education student. The Paraprofessional Assistant works with certificated staff in the instruction, supervision and training of individual students or small groups in specific academic and skill areas. Both positions are 85% time. Apply by 4 pm July 2. (June 21)
https://www.edjoin.org/Home/DistrictJobPosting/1313642
https://www.edjoin.org/Home/DistrictJobPosting/1424979
Pastry Line Cook, Servers, Café Manager, Banquet Cook, Breakfast/Lunch Cook, Line/Prep Cook, Dishwasher, Bartender, Banquet Captain, Bellman, Spa Massage Provider, Hotel Maintenance/Houseman, Housekeeper, Busser, Landscaper
John Ash / Vintners Resort, Fulton
Details at the link below. (June 21)
https://www.vintnersresort.com/job-listings/
Yard Duty, Food Service
Guerneville School District, Guerneville
Part-time and on-call jobs available at Guerneville School, 14630 Armstrong Woods Rd. $15.69 – $22.33 an hour depending on the job. (June 20)
Instructional Assistant / Yard Duty Supervisor: https://www.edjoin.org/Home/DistrictJobPosting/1385147
Substitute Food Service Assistant/ On Call: https://www.edjoin.org/Home/DistrictJobPosting/1072333
Substitute/On Call Yard Duty Recess Supervisor: https://www.edjoin.org/Home/DistrictJobPosting/1148932
USPS Post Office and Mail Delivery Jobs
(415) 550-5653 or SFLOCALSERVICES@usps.gov
Assistant Rural Carrier, Rural Carrier Associate, Forestville
Assistant Rural Carrier, Rural Carrier Associate, Guerneville
Rural Carrier Associate, Occidental
Rural Carrier Associate, Graton
Rural Carrier Associate, Fulton CA
Assistant Rural Carrier, Rural Carrier Associate, Sebastopol
Details for each job at:
https://wp1-ext.usps.gov/sap/bc/webdynpro/sap/hrrcf_a_unreg_job_search#
Enter the name of one town (Forestville, Guerneville, Occidental, Graton, Fulton CA, or Sebastopol) and press Start to see currently listed jobs.
Each job is posted for only a few days. Currently these jobs are being re-posted each week on Thursday or Friday and applications close the following Monday or Tuesday. (June 20)
Bartender/Barback, Housekeepers
R3 Hotel, Guerneville
Bartending in a very efficient manner in a fast paced environment. Must have bartending skills and experience to hit the ground running. Barbacks must be efficient, with eyes always moving to ensure the bartenders have what they need at all times. These positions are $15.00 plus tips. Flexible schedule, 20-29 hours a week. When replying please attach a resume with your response.
R3 Hotel is looking for 2 housekeepers with experience and references, laundry experience is a plus. Days needed most are during mid week and Sundays, no early mornings (9 am start at earliest and working till 5 pm at most times the latest.) We are at max capacity on the weekends. Please inquire at the main office at the R3 Hotel. (June 18)
Bartender/Barback: https://www.facebook.com/jobs/job-opening/309116894260055
Housekeeper: https://www.facebook.com/groups/180383842798499/permalink/948749119295297/
Kayak Rentals, Lifeguard, Guide, Instructor, Assistants
Watertreks, Jenner
(707) 865-2249
Internships and Employment, Spring/Summer/Fall: Paid Training Starts Now. Bonus Contract Available.
Full-time and Part-time positions. Water Safety and / or Client Support and Reservations. Visit our new website at watertreks.net. Please Submit Resumes, References, and Cover Letters by e-mail at info@watertreks.com and call us at 707-865-2249. (June 18)
https://sfbay.craigslist.org/nby/npo/d/duncans-mills-kayak-rentals-lifeguard/7337085738.html
Cleaners (independent contractors)
Russian River Vacation Homes, Guerneville
(707) 869-9030
We are a busy vacation rental management company looking for independent cleaning contractors to clean vacation rentals throughout West Sonoma County, but especially the Lower Russian River Area. Cleaners must have their own vehicle and cleaning supplies. We are looking for professional cleaners and/or cleaning crews familiar with vacation rental cleaning. Please call, email, or visit our office for details: (707) 869-9030; reservations@riverhomes.com; 14080 Mill St (upstairs), Guerneville. (June 17)
On-Call Banquet Server, Tasting Room Part Time, Winery Cellar Worker, Bottling Line Worker, Sous Chef, Housekeeper/Janitor, Groundskeeper, Security Officer, Harvest Laboratory Technician
Korbel Champagne Cellars, Guerneville
Job details at the links below. Most jobs are full time with benefits. Applications are available 8-4:30 M-F at F. Korbel & Bros., Inc., 13250 River Rd., Guerneville, CA 95446, fax resume to (707) 824-7381 or apply through the links below. (June 17)
https://www.indeed.com/q-korbel-champagne-cellars-jobs.html
https://www.winebusiness.com/classifieds/winejobs/?go=search&q=korbel
Line Cook, Prep Cook, Dishwasher
Rio Nido Roadhouse
(707) 869-0821
Line Cooks and Prep Cooks! Dishwashers too!
We are a busy family resort style restaurant with live music and events. We serve Pub style food. Room for creativity- innovative cooks encouraged! Open 7 days a week, serving breakfast, lunch and dinner. (June 15)
14540 Canyon Two Rd, Rio Nido
Account Clerk
Sweetwater Springs, Guerneville
(707) 869-4000
Maintain District customer database, perform customer service and receptionist duties, process customer payments and collections. Part time needed; will consider full time. $21.31 – $25.90 an hour to start. Medical, dental, and other benefits. Requires a completed application form plus a resume. Download at link below. (June 13)
https://www.sweetwatersprings.com/documents/AcctClerk2021Applicationpacket.pdf
Behavioral Health Specialist/Health Care for the Homeless (HCH)
West County Health Centers, Guerneville
Works with the HCH Primary Care team and other staff to provide assessment, intervention, and brief and on-going, solution-focused interventions, including psychotherapy to patients with medical and behavioral health problems within the primary care and HCH setting. (June 13)
https://www.indeed.com/jobs?q=West%20County%20Health&l=Guerneville,%20CA&radius=5
Estate Host (PT and FT), Part Time Barback/Busser, General Winery Worker, Seasonal General Winery Worker, TFT Cellar
Hartford Family Winery, Forestville
Winery tasting room and cellar jobs at Hartford on Martinelli Road. Job details at the links below. (June 13)
https://www.jfwcareers.com/jobs/full-time-estate-host-hartford
https://www.jfwcareers.com/jobs/part-time-estate-host-hartford
https://www.jfwcareers.com/jobs/pt-barbackbusser
https://www.jfwcareers.com/jobs/general-winery-worker-hartford-family-winery
https://www.jfwcareers.com/jobs/seasonal-general-winery-worker-hartford-winery
https://www.jfwcareers.com/jobs/tft-cellar
Counter Person – Part time
R2T2 River Rentals, Guerneville
(707) 849-6802
Come work 3 days a week at R2T2 River Rentals shop in downtown Guerneville!
We are offering $15/hr Fri, Sat, Sun 8:30-2:30.
We are looking for someone to intake clients, take tubes and boards down to Johnson's when needed, and run a register. Please contact us today for any questions! 16297 Main Street, Suite A. (June 11)
BOH and FOH Winery Staff
Russian River Vineyards, Forestville
(707) 849-6802
With the summer season in full swing, we are searching for motivated individuals to join our growing team! If you're looking for a fun, flexible, and supportive work environment, these positions may be for you!
Back of House: Sous Chef, Line Cook, Ground Keeper
Front of House: Tasting Room Staff, Tasting Room Shift Lead/Assistant Manager
Previous experience preferred. Must be able to lift 50 lbs (case of wine) regularly and stand for long periods of time. Part-time with the potential to go full-time.
If you're interested in any of these positions or know anyone who might be, please email your resume to debbie@russianrivervineyards.com. We're looking forward to hearing from you! 707.849.6802 (June 11)
Gas Station
Lambert's 76, Guerneville
(707) 869-3582
Hi everyone! Lamberts 76 is looking to hire! If you are interested please stop by and drop an application off or come in and grab one. Thank you! (June 10)
16383 Main Street
Executive Director
Stewards of the Coast and Redwoods, Guerneville
Stewards is seeking an Executive Director who will lead the Stewards team, share a passion for environmental education, and create a vision of the future that preserves our natural and cultural resources and ensures equitable access for all park users. The Executive Director is responsible for advancing Stewards' vision, mission, and goals and for upholding the beliefs and values that form our organizational culture. Our ED administers the organization's annual operating budget of approximately $650,000, oversees 8-10 full and part time staff and 250 volunteers, and reports to a 10-member board of directors. (June 10)
https://stewardscr.org/staff-jobs/
Event Supervisor – Part Time, General Manager, Operations Manager, Houseperson, Guest Experience Associate, Housekeeper
AutoCamp Russian River, Guerneville
Do you love to create delight through design and attention to detail? Are you a MacGyver who always finds a way to get it done? If so, then we invite you to apply to AutoCamp to join our adventure. 14120 Old Cazadero Rd, Guerneville. See job details and apply online through the link below. (June 10)
https://autocamp.com/careers/
Shelter Aide; Community Outreach Manager – Bilingual (Spanish/English)
West County Community Services, Guerneville
The Shelter Aide is responsible for overseeing, facilitating, and coordinating the activities of clients and volunteers at the agency's Homeless Shelter. The Shelter Aide provides a safe, nurturing environment for shelter clients and is responsible for smooth operation of shelter functions.
The Outreach Administrator will work in partnership with the Executive Director and Board of Directors to manage fundraising, community outreach, communications and volunteer services. For details and to apply, see link below. (June 10)
Shelter Aide: https://www.westcountyservices.org/shelter-aide/
Community Outreach Manager: https://www.westcountyservices.org/outreach-administrator/
Dozer/Truck Operator
California State Parks
Operating bulldozers, road graders, heavy trucks, loaders, excavators, backhoes, compact loaders, and other types of heavy equipment. Will require travel and some periods of work away from the employee's headquarters. This is an exam for all openings statewide. Job announcement did not state whether openings are expected in the local Russian River/Sonoma Coast office. Apply by August 14. (June 9)
https://www.parks.ca.gov/PAGES/736/FILES/1PR14.PDF
Server, Server Assistant
Pat's International, Guerneville
Server: Serve guests, taking phone and in person orders. Must have a minimum of 2 years serving experience.
Server assistant: Assist server; maintaining restaurant clean and sanitized.
Apply at 16236 Main St. or through Facebook link below. (June 8)
Server: https://www.facebook.com/jobs/job-opening/841786796721525
Server assistant: https://www.facebook.com/jobs/job-opening/3599590786808774/
Tasting Room Associate
Fort Ross Vineyard & Winery, Jenner
Fort Ross Vineyard & Winery is seeking Tasting Room Hosts to join our team and offer hospitality to patrons in our tasting room and on our outdoor patio with beautiful views over the Pacific Ocean. Applicants will be expected to sell wine, recruit wine club members and educate our patrons about our acclaimed, limited production wines and history of the estate. If you enjoy people want to join a fun and friendly team, we would love to hear from you! Full time and part time available. (June 8)
https://www.winebusiness.com/classifieds/winejobs/?go=listing&listingid=209965&ref=wja
Hotel Housekeeping, Front Desk, Server, Chef, Maintenance, Night Desk, Landscaping
The Stavrand (former Applewood Inn), Guerneville
The new team at the former Applewood Inn invites you to launch a new, luxury boutique hotel experience this summer! Full-time available, year-round. Healthcare & 401k benefits.
Beautiful, fully-renovated property + a culture of trust & empowerment.
Send resume through Craigslist email link below. (June 7)
Hablamos español – Limpieza, Recepcion, Mantenamiento / Jardinero, Cocinero
Llame a la dueña / GM nueva, Emilia: 707.869.9093
https://sfbay.craigslist.org/nby/acc/d/guerneville-hotel-housekeeping-front/7332851521.html
Gardener/Jardinero
Cruz F Calderon, Guerneville
Basic landscaping, irrigation, weed wacking, trimming/pruning shrubs. $16 – $22 an hour.
(June 7)
https://www.facebook.com/jobs/job-opening/1454954044861679
Housekeeper – Limpieza De Casa
Nested LLC, Guerneville
Cleaning vacation homes in the Russian River area. $90 – $170 a day. Pay depends on the size of the home and experience. Please call 415-410-5962.
Tenemos 2 posiciones disponibles para persona con experiencia limpiando casa de vacaciones en el pueblo de Guerneville a lo largo del Rio Ruso. Favor de llamar al 415-410-5962 para más información. (June 7)
General Laborer
Yard Care Plus, Guerneville
General laborer, no experience necessary, must be reliable. 40+ hrs per week. $16 – $25 an hour. (June 7)
https://www.facebook.com/jobs/job-opening/320901059581035/
Remodeling Carpenter
Contractor, Guerneville
Local Russian River contractor looking for Carpenters that are experienced in remodeling. Need truck and tools. (June 7)
https://sfbay.craigslist.org/nby/trd/d/guerneville-remodeling-carpenter/7332906544.html
Receptionist, Veterinary Assistant, RVT
Bodega Bay Veterinary Hospital, Bodega Bay
Bodega Bay Veterinary Hospital is seeking an experienced receptionist, veterinary assistant and RVT. We need team members who are mature and reliable, have a positive attitude, can think on their feet and interact positively with our staff and clients. $20+ an hour depending on experience. Part and full time available. (June 7)
https://www.facebook.com/jobs/job-opening/3017666418501851/
Line Cooks, Servers, Bussers, Host/ess
The Tides Wharf & Restaurant, Bodega Bay
Line Cooks, AM or PM shifts available. Front of House staff, full time or part time, weekends required, day/evening shifts available. We offer a great benefits package. Apply through Facebook link below, or apply in person at: Tides Wharf Administration Offices, 835 Highway 1, Bodega Bay, CA 94923. (June 7)
Line Cook details: https://www.facebook.com/jobs/job-opening/640295089680667/
Front of House: https://www.facebook.com/jobs/job-opening/556468428082662
Zipline Guide/Staff
Alliance Redwoods, Occidental
Sonoma Zip line Adventures is a zip line tour through the Northern California Coastal Redwood Forest. We are currently looking for energetic, enthusiastic individuals to join our Canopy Tour guide team. Full-time, Part-time, Internship, from $14 an hour. Many other positions also available at Alliance Redwoods. (June 7)
https://www.sonomacanopytours.com/employment/
Water Truck/Tanker Driver, CDL A/B
Rushin River Water LLC, Duncans Mills
Rushin River Water LLC (formerly Casini Enterprises Watertenders) is a trucking company that has been delivering bulk drinking water to residences, businesses, agriculture, special events (weddings, bicycle races, marathons) since 1985. Seeking experienced commercial truck driver. $30 – $40 an hour, $1000 signing bonus. (June 5)
https://sfbay.craigslist.org/nby/trp/d/duncans-mills-water-truck-tanker-driver/7331609678.html
Servers and Food Runners
Hazel, Occidental
We're so excited to be back serving indoors, but we need more front of the house staff to do it! Looking for servers & food runners to join our team. Email us: info@restauranthazel.com. (June 4)
Hotel Housekeeper
Creekside Inn & Resort, Guerneville
Able to do a full cleaning on guest departure. We supply personal protective equipment. We thoroughly clean and sanitize all of our accommodations between guests and are not doing services during stays. Part time, $15 – $16 an hour. In addition to the salary range the housekeeper receives bonuses and tips. (June 3)
https://www.facebook.com/jobs/job-opening/317811849381430/
Ranch Hand
Adamo Eventing, Forestville
Love working with horses, being outdoors, and want an excuse to cancel your gym membership? Come work with us! We are in need of an additional Ranch Hand to clean stalls, feed horses, and do turnouts Thursday through Sunday between 3pm-6/7pm depending on workload. This is a paid position and does not include any riding. However, lessons in lieu of pay can be discussed as an option. Must be a reliable worker and be confident handling horses. (June 2)
https://www.facebook.com/jobs/job-opening/293637599149219/
Now Hiring All Positions
Bohemian Grove, Monte Rio
With acres of towering redwood forest nestled in Sonoma County's Russian River wine country, The Bohemian Grove provides an amazing environment to work in. We strive to deliver world-class service to our members and their guests while providing an enjoyable environment for our staff. Grove staff are hardworking, gracious, collaborative, and value working in a strong team environment. 2021 Bohemian Grove Midsummer Event dates for employees: Midsummer Event: July 6 – August 1, 2021
To enter the property you must be fully vaccinated with your last dose plus two weeks before entry.
No experience necessary. Meals provided. Ages 15+
Many positions available. Please apply today! (June 2)
https://bcjobs.applicantpro.com/jobs/
Cook/Prep
Altamont General Store, Occidental
Ready to join a fun, positive, hard working and dedicated team of lovely individuals? We are a new cafe and market place in Occidental. The position is 3-5 days, hours anywhere from 8am-4 or 10-6. Part-time, $16-18 an hour plus $4-6 an hour in tips. This is a pretty low stress kitchen and we all want to enjoy our days and the work environment. Apply through Facebook: (May 28)
https://www.facebook.com/jobs/job-opening/928822584570482/
Canoe/Kayak Loaders, Lifeguards, Strong Swimmers
Burke's Canoe Trips, Forestville
(707) 887-1222
Burke's Canoe is now hiring for canoe/kayak loaders/unloaders. Also hiring lifeguards and other strong swimmers to monitor certain specific beaches along the River. Weekend, full-time, and part-time positions available. Great summer job. Good pay. Please call Burke's at (707) 887-1222. (May 27)
Store Manager, Stocker, Clerks
Pelican Plaza Grocery and Deli, Bodega Bay
(707) 875-2522
Grocery is looking for customer service focused, reliable Store Manager (swing shift), Stocker (day/swing), and 2 Clerks (day/swing). Willing to train. $15 an hour for stocker/clerk, $20 an hour for manager. Call Donald at (707) 875-2522 for interview. (May 27)
Young Steward, Seasonal Part-Time
LandPaths
LandPaths seeks 11 individuals between 14 and 25, with an interest in getting outdoors. Successful candidates will work alongside the LandPaths stewardship crew in the field and learn multiple facets of land stewardship through direct hands-on experience. 2 days per week, 8am – 2:30pm. Unpaid; paid positions ($15.50 an hour) available based on financial need. Brief and specific cover letter and resume to LandPaths ~ Attn: HR, 618 4th Street, Suite 217, Santa Rosa, CA 95404 or hr@landpaths.org. (May 27)
https://www.landpaths.org/job-openings/young-steward/
Deli Prep Cook
The Farmhand, Guerneville
The Farmhand Deli is now looking to hire a prep cook to our awesome team. We are located right along the beautiful Russian River. Come by and check out our uplifting environment and meet our friendly team. Duties will include slicing, chopping, prep cooking and some dishwashing. Restaurant experience is a plus but willing to train the right candidate. Must be able to stand for long periods of time and lift up to 40lbs. $15 – 20 an hour. Please bring your resume by the deli and fill out an application: 15025 River Rd, Guerneville. (May 26)
Server, Other Inn & Restaurant Positions
Village Inn & Restaurant, Monte Rio
(707) 865-2304
Looking for another server at the historic Village Inn in Monte Rio. Experience a plus but not required. Multiple positions available at inn & restaurant. Call now! (May 25)
20822 River Blvd, Monte Rio
Service Technician, Customer Service Specialist
Ferrellgas, Guerneville
Ferrellgas is seeking a Service Technician responsible for installing, repairing and maintaining propane equipment for our customers. Service Technicians can expect to work local routes and be home every night; however, on-call rotations for after hours and weekend emergency deliveries may be needed. Ferrellgas is also searching for a Customer Service Specialist to join our team. In this position, you will be responsible for providing exceptional customer service through inbound and outbound telephone calls and will work closely with both internal and external customers. Both positions are full time with benefits. Apply online through link below. (May 24)
Service Tech: https://www.ferrellgas.com/ferrellgas-jobs/career-detail/?id=15411
Customer Service: https://www.ferrellgas.com/ferrellgas-jobs/career-detail/?id=15524
Dishwasher, Cook, Busser
Betty Spaghetti, Guerneville
Betty Spaghetti is looking for help!!
Any level of experience is welcome. Let's get our town back to a great place to visit.
Help us make everyone's visit the best. Stop by and let's get to work! 16390 4th St, Guerneville. (May 23)
https://www.facebook.com/jobs/job-opening/495096511704277/
Groundskeeper, Housekeeper, Houseman
The R3 Hotel, Guerneville
The R3 Hotel is looking for a reliable Groundskeeper, Housekeeper & Houseman. Willing to train the right person. Starting pay $20/hour +
Please apply in person at 16390 4th St, Guerneville. (May 23)
Retail Sales Associate – Part Time
Pig Alley, Duncans Mills
(707) 865-2698
Looking for a part time job? Pig Alley is looking for you!
Big Plus: you'll be working with a terrific team of fun and supportive people. If you or someone you know may be interested, give us a call at 707-865-2698. Or come in to the shop, say "Hi", and pick up an application! (May 23)
Yard Clerk
True Value of Guerneville
Apply at 15600 River Rd, Guerneville. (May 19)
Server and Housekeeping
Highland Dell, Monte Rio
(707) 239-1471
– Experienced Server/Bartender (must be 21)
– Person for Housekeeping (will get training)
5 shifts/week (25-35 hours), above average pay! We're a family run business since 2004 with a great reputation and a good work environment. Please call or text Herb at 707-239-1471. (May 18)
Golf Course Marshal, Golf Pro Shop
Northwood Golf Club, Monte Rio
(707) 865-1116
Ever think what it would be like to work in a golf pro shop? Or maybe even marshal at the golf course? Northwood has some openings for both of those positions. If you are interested call the pro shop and talk to Gaylord. Fun job great location friendly people and vibes that will not stop! (May 15)
https://www.facebook.com/Northwood-Golf-Club-452090921543863
Breakfast Cook
Piner Cafe, Santa Rosa
Full time. Experience required. Yummy food, good pay and hours. Stop by 975 Piner Rd. or call 707-953-0308 or 707-575-0165. (May 11)
https://www.facebook.com/Piner-Cafe-570370643114932/
Tree Climber, Gardener, Laborer, Foreman, Groundsman, Crew Leader
Cagwin & Dorward Landscape Contractors, Rohnert Park & Bay Area
(800) 891-7710
Cagwin & Dorward offers careers in landscape maintenance, construction, tree and arbor care, sales, water management, and environmental restoration. (May 5)
recruiting@cagwin.com
https://www.cagwin.com/careers
Busperson, Restaurant Staff
Russian River Pub, Forestville
(707) 887-7932
Join the RRP Team! Busser/cleaning person needed for busy, family friendly outdoor restaurant. Overall helping to keep the place clean and sanitized. Pay is $17.00 an hour and includes a shift meal. This is a fun and engaging work environment. No experience necessary. Short handed for other positions, too. (May 5)
11829 River Road, Forestville. info@russianriverpub.com
Housekeeper – Part Time
Mine + Farm, Guerneville
Small 9-room bed and breakfast inn on River Road needs detail-oriented housekeepers for 2-3 days a week. $20 – $24 an hour depending on experience. Call or text Suzanne at 415-712-4488 and leave your name, number, and best time to call. (April 28)
Breakfast Cook / Line Cook
Northwood Restaurant – Bistro, Monte Rio
Full time. Experience required. Call 707-865-2454 or 707-953-0308. (April 20)
https://www.facebook.com/northwoodbistro
Teller / On Call Teller
Westamerica Bank, Guerneville
Our teller positions are entry level opportunities at Westamerica Bank. Prior experience with cash handling, sales and customer service preferred. Great communication and customer service skills are required. (April 1)
https://phf.tbe.taleo.net/phf02/ats/careers/requisition.jsp?org=WESTAMERICA&cws=1&rid=6754
Parks and Grounds Maintenance Worker I – Extra Help, Park Aide – Extra Help
Sonoma County Regional Parks
Parks and Grounds Maintenance Workers maintain all County parks, bike trails, open space and other landscaped areas under contract with the County including Coastal (Bodega Bay, Gualala – Stillwater) and Russian River park areas. Park Aides support routine park operations, and a variety of Sonoma County Regional Park programs. On-the-job training in park rules, procedures, interpretation, and operations is provided to all Park Aides. Maintenance Workers $20.94 – $25.45 an hour, Park Aides $16.26 – $19.76 an hour. (March 29)
https://www.governmentjobs.com/careers/sonoma/jobs/2992125/parks-and-grounds-maintenance-worker-i-extra-help
https://www.governmentjobs.com/careers/sonoma/jobs/2991243/park-aide-extra-help
Grocery, Bakery, Deli, Front End, Floral, Pharmacy, Starbucks, Meat/Seafood, Management Jobs
Safeway, Guerneville
Safeway is hiring for many positions. Search for 95446 to get all the current listings:
https://recruiting.adp.com/srccar/public/RTI.home?c=1208301&d=Safeway_External

Russian River Job Board is presented by the Russian River Chamber of Commerce
with support from the Sonoma County Economic Development Board
and the assistance of Sonoma County Job Link.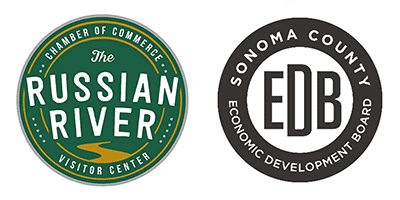 Sonoma County Job Link is a resource for both job seekers who want to be more competitive and local business partners looking to hire qualified candidates. Our bilingual Resource Navigators and Career Counselors can assist job seekers with their resumes, cover letters, and interviewing skills. They also assist with skills assessments and exploring careers that match job seekers' interests and skills. In addition, job seekers can find out if they are eligible for paid On-The-Job training, which is a win-win for employers and employees. Call today at 707-565-5550 or visit www.SonomaWib.org.