October is one of the most beautiful months here on the River with warm days, crisp nights, fall foliage and, of course, Halloween fun for the whole family! This year, we have several special Halloween events, including the annual Pub Crawl and Costume Contest where ghostly goblins, witches and those dressed as their favorite emoji have the chance to win cash prizes of up to $300, and a chance to win a night at the lovely River View Garden Resort! In addition, many local businesses will offer discounts, giveaways and special treats for trick-or-treaters.
Here's a rundown of this year's Halloween events:
Saturday, October 27 (8-12 p.m.)
Annual Stuart Peot Halloween Pub Crawl and Costume Contest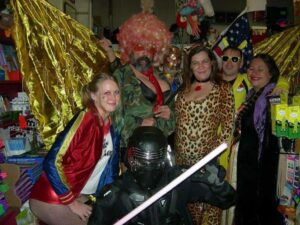 Come in your most creative, fun and fantastical costume and stop by any of the locations at the following times. Whichever location you choose, your costume will be judged at the times listed below. Those with the best costumes will have the chance to win a cash prize of $300, $200 & $100 for first, second or third place.
8pm R3 Hotel
11pm Main Street Bistro and Piano Bar – Cabaret
12pm Trio Restaurant
Halloween, October 31st (4-8 p.m.)
Trick-or-Treating along Main Street
Come down to Main Street where businesses will pass out candy to kids of all ages, and stop by Guerneville 5&10 where you'll have the chance to get your photo taken for free! If you plan to bring your best friend along, stop by Barkers Pet Supply to pick up a pet costume. Visitors can also plan a fun fall activity at Kings Sport and arrange a fishing trip up the river.
Trick-or-treaters can make their day even sweeter with a treat from the Chile Pie Baking Company or Nimble & Finn's Ice Cream at the Guerneville Bank Club. In addition to candy treats, adults can enjoy Russian River Valley Wines or Equality Vines at the Inizi Tasting Room, and sip and watch the costumed crowd go by!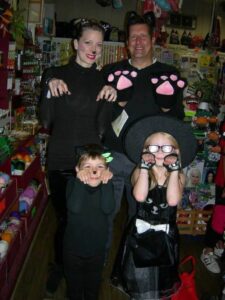 WIN A FREE NIGHT AT THE RIVER VIEW GARDEN RESORT! 
Here's how to enter the contest:
Step 1: Come to the River and Participate in this year's activities! See our blog post here for Costume Contests, Trick-or-Treating and fun on the River. 
Step 2: Take a selfie and post it with hashtag #RiverHalloween on your Instagram account.
Step 3: Follow @russianriverchamber on Instagram
Step 4: Like your favorite photo on Instagram and share your entry with friends to get more likes.
The entry with the most likes will win a free night at the River View Garden Resort!
Instagram Contest Rules and Information: This contest is hosted by the Russian River Chamber of Commerce and is not sponsored, endorsed or administered by, or associated with Instagram. The contest runs from October 27, 2018 – November 5, 2018. The winner will be chosen on November 6th based on the number of likes a post gets on the hashtag #RiverHalloween. The winner and the prize host, River View Garden Resort, will both be notified of the winner and you will be free to work out the date to redeem your free night together.
NOTE:  Per Instagram, you must not inaccurately tag content or encourage users to inaccurately tag content in your contest (example: don't encourage people to tag themselves in photos if they aren't in the photo). 
Also for the whole family, stop by the Annual Halloween Carnival on Sunday, October 28 from 11 am – 3 pm hosted by The Friends of Guerneville School. Admission is $5 per child. Adults are free. Admission includes unlimited games AND prizes!!! All proceeds are used toward enrichment activities for all students at Guerneville School.
Come in costume and support our kids!
There will be food, drinks, and raffle tickets available for purchase.
#riverhalloween
#guerneville
#russianriver
#halloween
#visitrussianriver
#iniziwines
#ChilePieBaking
#KingsSport
#RussianRiverWine
#GuernevilleBankClub