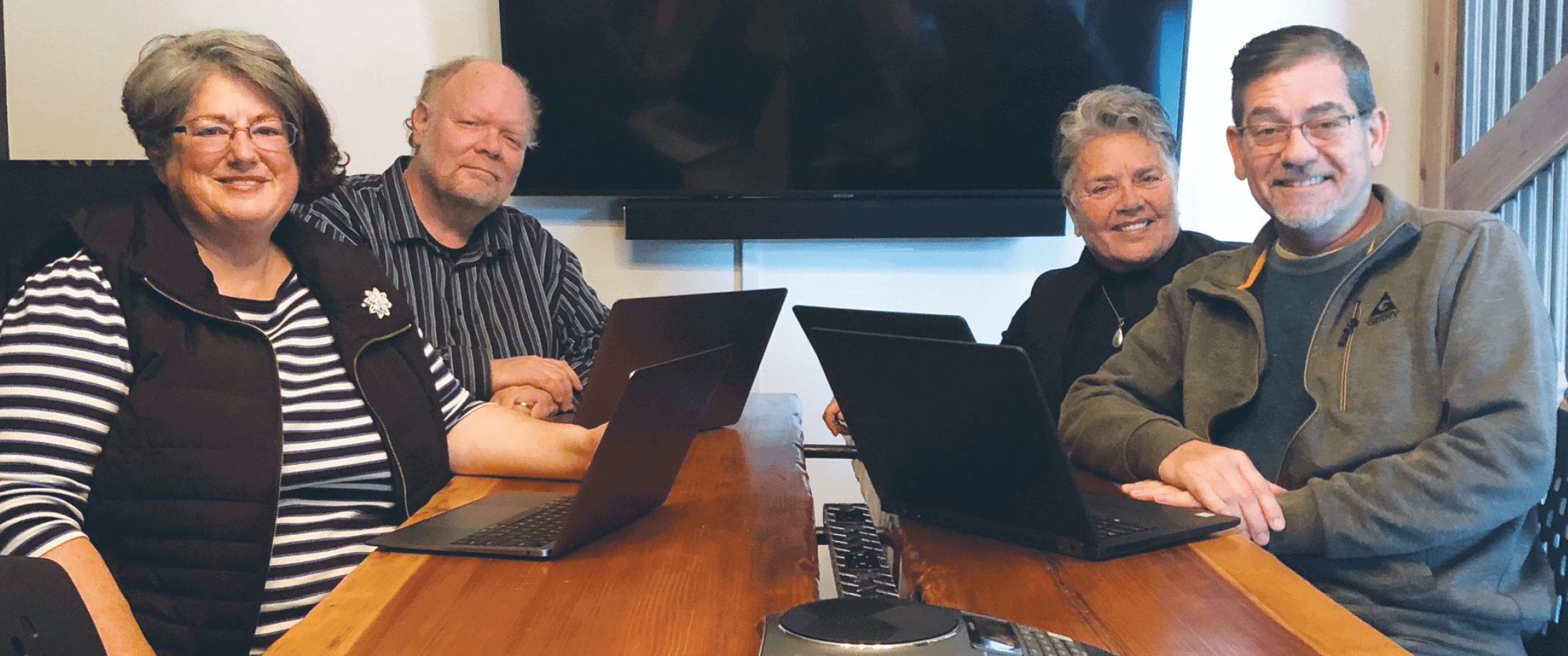 Courtesy Progress Magazine. Copyright 2020, Sonoma West Publishers. Used with permission.
For Roger Coryell, manager of the new Russian River Chamber of Commerce business services and computer-training lab, "This is all about helping small businesses and creating jobs."
He's talking about the new lab where Russian River area small business owners and employees can now get free access to business tutoring and technology in the Chamber's Guerneville visitor center.
"We're starting with a program of seminars, training sessions and opportunities for people to use the lab individually or in groups," said Coryell, working at the redwood conference table in the Chamber's office looking out on the town plaza.
Launched this month, the lab is equipped with new high-speed computers and a widescreen video monitor offering fast internet access, wi-fi and social media capabilities to help the area's rural small business owners.
The lab is separate from the Chamber's visitor-serving role and is now open for regular hours on Mondays and Wednesdays from 8 a.m. to noon, but appointments can also be arranged, said Coryell.
The lab services are available to anyone from local merchants and their employees to tourists in town who might need to print out an airline ticket, said Coryell.
"We think it's a good idea and a good resource," said Coryell, who brings a background in computer tech skills and online marketing to his lab manager role.
The Chamber created its business lab thanks to a $50,000 United States Department of Agriculture small business grant awarded last year through the perseverance of former Russian River Chamber executive director Elise VanDyne.
"The USDA was really interested in helping us uplift the technical capabilities of our small rural businesses," said VanDyne, now district field representative for Sonoma County Fifth District Supervisor Lynda Hopkins.
High powered laptops installed with business tech software, including Adobe Creative Suite, QuickBooks and Microsoft Office, will provide the tech capabilities necessary to be successful as a small business, said Van Dyne. "We're going to feature one-on-one mentoring so people can come in and have questions answered and be able to up their marketing game."
Glenn Dixon, a Russian River resident with experience in hotel, restaurant, bar and winery management, is one of the Chamber consultants offering advice and help for merchants and their employees to manage marketing, social media, finance and sales, said the Chamber's new Executive Director Karin Moss.
"Bring in your questions and Glenn will help you find an answer that will help you compete in the digital environment," said Moss, who took over the executive director's post last October.
Dixon will offer expertise in one-on-one and small group formats where participants can learn to work with Apple Mac and PC Windows 10 apps, Microsoft Office for Mac and financial software including Quickbooks, Moneydance and other social media tools with the intent to provide as much consultation on the myriad of tools available to be competitive in this digital marketing age.
Seminars starting in March will be in conjunction with such partners as Sonoma County Tourism, Napa/Sonoma SBDC, Sonoma County Economic Development Board, Small Business Majority and West County Community Services. They will also address business issues such as AB 5, the new California labor law affecting freelancers and contract employees.
Other planned seminars will bring in the Sonoma County Hospitality Association to offer employee guidance on customer service skills targeting the Russian River's visitor-serving restaurant, lodging and recreation-oriented small businesses.
"These are all programs designed to elevate the customer experience and help us bring more visitors back," said Moss. "We think it's a really good time for the Russian River Chamber of Commerce."