Chamber Team: listed below
Member Committees:
Become involved with your Chamber and get the most out of your membership by joining a committee.  Volunteers are always welcome.  As a committee member, you help shape the programs of the Chamber, contribute to your community, and develop lasting relationships with fellow members.
Membership
Develop and implement member communications and programs. Help grow the member base.
Marketing
Development of print and online marketing collateral. Oversee website/design, advertising, and marketing across all chamber activities.
Chamber Events –  Debra Johnson
Produce events that showcase members and raise funds for the Chamber: Food & Wine Spring Fling, Give Back Tuesday participation.
The following committees are open to members of the Board only. Members are encouraged to run for Board positions and join in on these governing committees.
Executive Committee – Chair President Debra Johnson
Open only to President, Vice President, Secretary, Treasurer, Past President. This committee handles HR and legal issues, overall Board oversight.
Finance Committee – Chair Treasurer Lynette McLean
Financial oversight, review financial reports monthly, develop the annual budget, report on financial issues the Board each month.
Governance: 
Updates on ByLaws
Election:
The Election Committee is appointed at the Board meeting in July and the committee will meet from August – October (Election is in October)
 Nomination:
This committee is appointed at the Board meeting in June and the committee will meet from July – September.
Board Members and Staff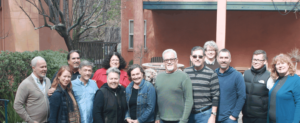 2019/2020 Board of Directors
DEBRA JOHNSON
Berkshire Hathaway
President
JENNIFER KLEIN
Osmosis Day Spa Sanctuary
Vice-President
WENDY BIGNALL
Bignall Investigations Group
Secretary
LYNETTE McLEAN
Highlands Resort
Treasurer
BOB PULLUM
Guerneville Bank Club
CRISTA LUEDTKE
boon/El Barrio
MARK BELHUMEUR
AutoCamp Russian River
PATRICK O'LEARY
The Woods Resort
LESLIE "JO" BOOKER
Friends of Stumptown
AMANDA JOHNSON
Russian River Vineyards.
JEFF BRIDGES
R3 Hotel
Past President
Staff
Executive Director     Karin Moss karin@russianriver.com
Operations Manager  Marina McTaggart news@russianriver.com
Business Lab Manager/Marketing Consultant  Roger Coryell roger.coryell@russianriver.com
Visitor Center Greeters  Mary Baker, Roger Coryell, Sue Lange, Otto Willis  info@russianriver.com