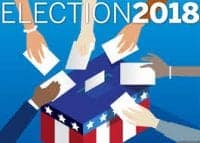 Board of Directors
2018 Nominations and Elections Notice
Annual General Membership Meeting
(Posted July 18, 2018)
The Russian River Chamber of Commerce (RRCOC) will conduct elections for five (5) open seats on the RRCOC Board of Directors. If you or someone you know is interested in running for an open position on the Board, applications are now being accepted from interested candidates. Instructions for applying are as follows:
DATE OF ELECTIONS & ANNUAL GENERAL MEMBERSHIP MEETING:
WEDNESDAY, OCTOBER 3, 2018
The Board of Directors is the governing body of the Chamber of Commerce. The board consists of thirteen (13) Directors, all are elected by the membership. This year we have 5 vacant seats, three (3) 2-year positions and two (2) 3-year positions which will be open for election on October 3, 2018. The 2-year terms will end on December 31, 2021 and 3-year terms will end on December 31, 2022. Monthly Board Meetings are the third Tuesday of the month from 5-7pm at the RR C of C Office in Guerneville. Newly elected directors will attend the October 16, 2018 Board Meeting.
Eligibility for Office: To be eligible for service on the RRCOC Board of Directors, a candidate must be a member of the RRCOC in good standing.
Interested Candidates shall submit the following required documentation:
Board of Directors Application (following), which shall include name, contact information, name of business/organization and should include your intent, a short bio and explanation of how you meet the qualifications for the position.
All documents shall be addressed and submitted by one of the following ways:
Via US Mail to: Russian River Chamber of Commerce and Visitor Center
P.O. Box 331, Guerneville, CA 95446
Via Email to: news@russianriver.com
Via Hand Delivery to: Russian River Chamber of Commerce & Visitor Center
16209 First Street, Guerneville, CA 95446
Application form along with bio will be accepted no later than the close of the September Chamber Mixer which is scheduled to begin at 6:00 pm, on Wednesday, September 5, 2018 at the River View Garden Resort, 20250 Highway 116 Monte Rio, CA 95462. Additional nominations may be taken from the floor at this meeting.
The process for elections can be viewed in the Chamber Office in the Chamber's By-Laws.
Chamber Board of Directors meet monthly for 12 months of the year and serve on a committee suited to their interests.
Candidate Application
Russian River Chamber of Commerce & Visitor Centers
16209 First Street • P.O. Box 331 • Guerneville, CA 95446
Tel: (707) 869-9000 • www.russianriver.com
Russian River Chamber of Commerce
Board of Directors Election of October 3, 2018
Business Name/Organization: ________________________________________________________
Name of Applicant/Title: _____________________________________________________________
Mailing Address: ___________________________________________________________________
Telephone: __________________________ Email: _______________________________________
Signature: _____________________________________________ Date: ______________________
Tell us about yourself and the skills you would bring to the Chamber of Commerce Board:
350 Words Maximum. If more space is needed, please attach an additional page.
Return completed application form to:
Russian River Chamber of Commerce & Visitor Centers
Attn: Office Manager
P.O. Box 331, Guerneville, CA 95446
or by email to: news@russianriver.com
Application Deadline: Wednesday, September 5, 2018 by 8:00 pm